"Home of the Original Retrievable Cable Stake!"

Hi, My name is Ron Marsh. I am the owner of Ron's Cable Shop. The shop is located in Oil City, Pennsylvania. I have been trapping for over 30 years and it has always been a passion of mine. I have invented several new tools, including the Retrievable Cable Stake, to make trapping easier and more effective. In my shop, you can find these tools as well as many other trapping supplies and services. Throughout each year, I attend several trapping conventions and post many of my products on ebay.
I look forward to doing business with you at the store, at a convention, or through ebay. Please feel free to contact the shop if you have any questions.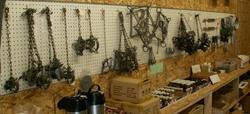 What you'll find on my site:
Retrievable Cable Stakes
J Hook Tool
Trap Dying
Waxed Dirt
Directions / How to
Supplies
Order Form
My Friends / Links


My eBayworld
Clicking on the link below will direct you to my ebay world where you can browse the items that I have for sale through ebay. Items change regularly.
Ron's Cable Shop
Trapping Supplies
11 South Park Avenue
Oil City, PA 16301
814-677-2564
This wesite is run by Ron's Cable Shop. Webmaster: John C. Jones